Shapure's Filters For Ro | Set Of 2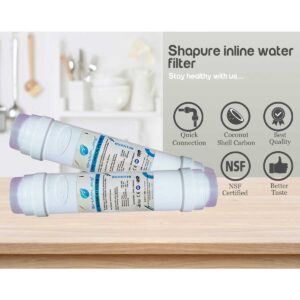 Water Filter Cartridges
Shapure is your one-stop shop for everything related to water purifier service. Whether you need our products or simply want expert advice and support, we've got you covered. This includes everything from our e-commerce store. High-quality filters are important for all types of water filtration, whether you are looking at RO or UV or water filter cartridges we are talking about water quality here!
Sediment Filter For RO
Shapure's Sediment filter is designed to remove sediment particles and block material from your drinking water. They also provide better tasting, clearer water while filtering out contaminants such as dirt, rust, sand, and muddy debris. Shapure's Sediment filter is designed for high-flow rate filtration in residential water systems.
Pre Carbon Filter For RO
Our Pre Carbon Filter For RO features an extra thick layer of activated charcoal that is highly effective at reducing unpleasant tastes and odors. This iodine-free cartridge can be used to reduce chlorine and sediment from drinking water. Shapure's filters are replaceable and will last approximately 6  months depending on usage and local water hardness.
Elbow Connector
Elbow is a pipe fitting installed between two lengths of pipe or tubing to allow a change of direction. These connectors are easy to use Just push one end of the connector with the inline filter and the other one with pipe fittings.
Installation Notes:
Please note the direction of water flow indicated on the product.

Always flush a new cartridge with 5 gallons of water before use and check for leaks.

If leaks do occur, check the 1/4-inch elbow or tube is correctly inserted all the way into the quick-connectors.

We recommend replacing the inline cartridge after 6 months or when the flow rate becomes too slow when using the inline filter on its own.
Check out Our Set Of  3 Inline filters just Click here.